EKG Technician Course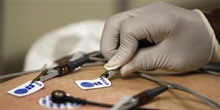 This 4 day EKG Technician course will consist of an overview of the cardiovascular system anatomy & physiology, medical terminology, proper documentation and vital signs, along with HIPAA compliance and infection control in the clinical setting. The main focus of this course will be on how to perform and analyze an EKG and recognize various arrhythmias. Students will also learn about exercise, electrocardiography and how to perform ambulatory monitoring. This course consists of eight hours of lecture and eight hours of hands on laboratory with "12 lead EKG".
A medical team has a multitude of people who play an important part in a patient's health – medical assistants, medical lab techs, nurses and doctors all work together, helping the sick and injured. An EKG technician is part of the team too, focusing on ailments of the heart.
To conduct a basic EKG test, the technician relaxes the patient as much as possible to get the most accurate results. He attaches three to 12 electrodes to specific points on the patient's legs, chest, and arms. A nearby EKG machine reads the impulses generated by the electrodes. The test results, which are displayed as wave tracings, are printed onto paper. The technician reviews them and ordinarily highlights areas of concern before giving them to a physician for analysis.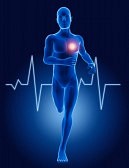 Classes start every 4 to 5 weeks
Externships coming soon!